It's Monday.
In the past recent weeks, that has meant going home, feasting on some CBGF (cheddar blasted gold fish) for a pre-dinner snack, a little How I Met Your Mother, din din, and if I'm feeling extra hungry a little post dinner dessert of some more CBGF.  A little quality cat time, and it's lights out at 9:30.  Now, I know you must be thinking, "WOW, girl knows how to have a solid Monday night!"  You are correct.  However, I will admit to the one thing that has been missing from my Monday routine as of late.  The Bachelor.
Well, I can happily (and sort of unhappily) say that my bedtime is moving on up to 10:05!  Tonight marks the premiere of The Bachelorette, with season 16 of The Bachelor's  Emily Maynard!
Wooohooo .
Okay, don't get me wrong, she's a fly southern girl, who's a got a lot of class in her sash.  But she was a big snooze fest when she was vying for the heart of Brad Womack.  Appaaaarently, this season is supposed to be different and she's ready to prove to America that she has a personality other than repeating her sob story tragedy five thousand times.  The verdict is still out on that one.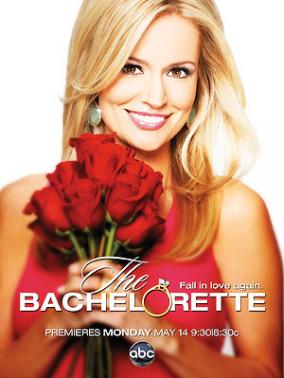 Regardless, putting 25 guys together for one lady will be entertainment enough for the first few episodes.  As with every season of the Bachelorette thus far, it's not a long shot to figure out which HALF of the guys are going to get cut.  As to not weed out any possible candidates, it would appear that ABC's strategy is to attempt the following blend of gents:
Guys who are bound to bring the je ne sais quoi of douchebaggery to the table.  Who doesn't love that?  Typically their heads are too small for their bodies, their muscles are too big for their frame, and usually a small let down south of the border, hence the competency of size everywhere else.
Guys that are super-duper sensy.  Really easy to spot right off the bat: the minute they open their mouths, you're tempted to ask them if they need a tampon and attempt an exchange through the TV screen.
The really nerdy guys.  He actually might make it decently far, because his personality is cute, but ultimately, they won't connect on a ton of intellectual levels, soooo bummer.  Slash he can be sooo awkward.
Creepers.  They're so sleezy and uncomfortable you feel like YOU need a shower after they've had their five minutes with the lady of the evening.  Don't they know their mother is probably watching? Shameful.
Seriously, how did they get on this show?  Pretty self-explanatory, clearly a producers rating pick.  No personality, no level of attractiveness, super awkward, probably like 20 cats back at home, and a pet turtle named "Shelly" that he dresses up on Halloween.
Throw in a couple funny guys, because, duh, they're funny.  No one will ever take them seriously in the long run though…
One to two black guys.  So they look "diverse."
Ta-da I'm normal! A select few individuals who actually might be a good fit for the bachelorette herself.  Typically handsome, solid personality, and a great set of teeth.
So basically, a blend kind of like this group of guys?
I can't wait.
Side Note:
The Bachelor is however, how I plan on locking down a long-term partner.  I see it going down the following way.

Pre-game: Talk to my trainer about ramping up those workouts, because those girls are in bikinis for literally half of the air time we see. Clearly the only way to go on a respectable nationally televised date.
Game Plan: Go on the bachelor with my new fly bod, become America's favorite because I fall under category number 8, clearly, as long as I manage to keep my love of cats on the DL.  Now while I will be a fave, I just won't be "the one," and will face heart-break and tragedy, maybe invest in another cat.  Meanwhile, ABC will approach me, because I was such a gem of normalcy, and recruit me to be the Bachelorette, and I will have my choosing out of 25 guys.
Except my first episode, I anticipate getting it over with and cutting a good half  to two-thirds and actually spend the rest of the allotted episode time and extravagant trip time with the guys who don't want to make me vomit on their personality.
The only thing actually keeping me from applying, yes I have looked into it, is that the application is like 15 pages long, and very personally in-depth.  Then you have to submit a video application too.  So, I am now accepting applicants of people who'd like to do that for me, and make me sound date-worthy.
If you're looking for a sneak peek before tonight….http://www.thehollywoodgossip.com/stars/emily-maynard/  Enjoy!!!
- Otto